Illamasqua Body Electrics for Summer 2010 is at last launched, i am late in posting this as i got email about a week ago before launch but i was on holidays so couldn't get chance to post.
Inspired by the power of kinetic energy and the fluidity of the body in motion, the Body Electrics range ignites the skin with intensity and highlights the body's every twist and turn to exquisite perfection. Ensuring you exude a confidence that's more than skin deep.


The collection is an anthology of creams, powders and dry body oils filled with light, shimmer and shine, designed to highlight and contour your whole body. Containing hyper-pigmented light-reflecting particles that infuse the skin with intense colours and finishes, each product in the range has been created to accentuate every movement and take body make-up to a whole new level
Products
Create a sultry shimmer with an after-dark edge. Smooth Illumine Oil over skin for a light-reflecting finish that makes every movement a drama. Infused with pearlised particles, passionflower seed oil and vitamin E, this luxurious dry body oil is quickly absorbed and leaves skin illuminated. Bask in a radiance of your own making and demand to be worshipped.
Illumine Oils are available in two shades:
Volt

– Iridescent Violet Shimmer
Prepare to dazzle with this brand new platinum shade of Illamasqua's cult product Liquid Metal. This gloriously rich and highly pigmented metallic cream can be used to adorn eyes, face and body, applied with fingers or a brush. Release your inhibitions and illuminate your alter ego.
Liquid Metal 4-Colour Palette 01
Indulge in a myriad of metallic shades and gild your work of art. Each Liquid Metal is amazingly rich and highly pigmented, giving you the power to dazzle and delight at will. Now is your time to shine.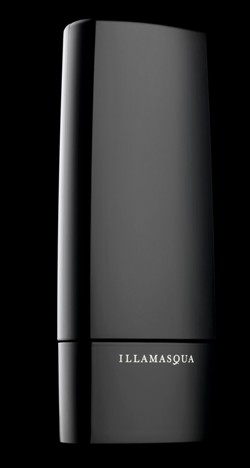 Light up your soul and release the inner you. Containing iridescent, pearlescent pigments, this lightweight cream is suitable for face and body, lifting and highlighting wherever it's applied. Use on its own or mix with foundation for an immediate skin brightening effect that will illuminate the night.
Individual Bronzers
Shape, define, tempt and tease. Illamasqua Bronzer contains crushed pearl powder, for a smooth, even finish that leaves skin begging to be caressed. Apply to face and body for a beautiful bronzed glow that will last until dawn.
Individual Bronzers are available in two shades:
Writhe

– Deep Mayan Bronze
The collection is supported by three electrifying new nail colours as well as a hand tooled cruelty free body brush and eyelashes.
Eyelashes - £14.00
Availability:

The Illamasqua Body Electrics collection is available at

Illamasqua.com and will be available at select Sephora locations and on Sephora.com beginning in May 2010



I love the whole collection esp individual bronzers,

Pulse

– Bronze Shimmer,liquid metal surge.!!!

So what do you think? do you plan to get Anything?.

I wish we had Illamasqua in Pakistan.